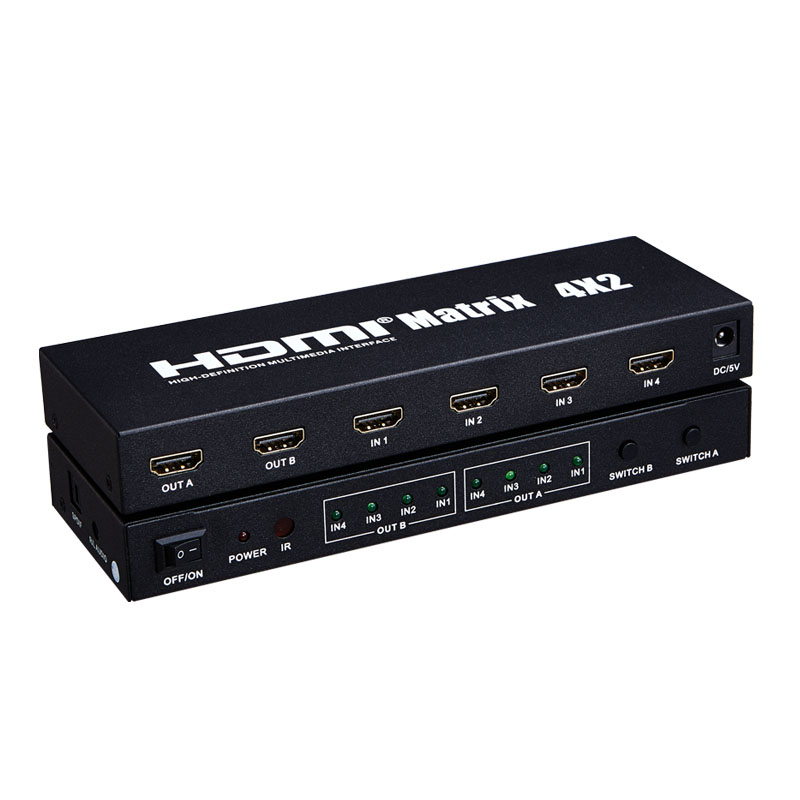 2015 hot selling 4k, good quality unique 4x2 HDMI matrix
HDMI 1.4b Splitter 4 × 2;
Support 4K*2K/30Hz/3D;
Support Blu-Ray/HD-DVD-xvYCC;
With 5V/3A power adapter.
1.Introduction:
HDMX4*4 is a 4-by-4 DVI/HDMI true matrix.It allows any source(Blue-Ray player,HD DVD player,satellite receiver,game system,ect.)to be shown on the any of four displays simultaneously,no matter the source is HDCP or not.Extra infrared receiver extension,IR emitter are supplied for the control.
HDMX4*4 has ability of equalization and amplification to ensure HDMI signal 's transmission throughlong cable without quality loss.
HDMX4*4 offers solutions for digital entertainment center,HDTV retail and show site ,HDTV,STB,DVD and projector factory,noise,space and security concerns,data center control,information distribution,conference room presentation,school and corporate training environments.
The HDMX 4*2 can connect 4 HD signal sources to 2 HD display terminals with optical fiber or stereo headphone output.The matrix allows four HDMI devices to be switched or split independent audio output by optical fiber or stereo head phone.
2.Features:
1.Support HDMI 1.4b;
2.Support 3D video format;
3.Support highest resolution up to 4096*2160/30Hz;
4.Support 3.2Gb data rate and tmds clock up to 320Mhz;
5.Support deep color 8/10/12 bit;
6. When the resolution is 1080p and below.Support AWG26 HDMI standard cable input up to 15 meters length,output up to 25 meters length;
7.Support 3.5mm audio output and optical output;
8.Support four HDMI input to be switched or split two HDMI output;
9.Support 5.1 audio channel;
10.Support single high definition display any multiple output HD signal sources,such as DVD Players,A/V receivers and Set Top Boxes;
11.Need DC 5V/3A power supply.
3.Specifications:
Item
Description
HDMI splitter version
HDMI 1.4b
HDMI resolution
Up TO 4096*2160/30Hz
Support video format
8/10/12 bit deep color
Support audio format
DTS-HD/Dolby-trueHD/DTS/Dolby-AC3/DSD
Max bandwidth
320Mhz
Max baud rate
3.2Gbps
Max working current
300mA
Input cable distance

(1080p resolution)≤15m;

(4K resolution) ≤12m AWG26HDMI standard cable

Output cable distance

(1080p resolution)≤25m;

(4K resolution) ≤ 15m AWG26 HDMI standard cable

Power adapter format input

input:AC(50HZ,60HZ)100V-240V;

Output:DCS 5V/1A

HDMI Input
4
HDMI Output
2
Max working current
1600mA
Weight
220g
| | |
| --- | --- |
| Operating temperature range | -15 ℃ to +55 ℃ |
| Operating Humidity range | 5% to 90%RH(No Condensation) |
| Dimension(L × W × H) | 178 ×67 ×20(mm) |
4.Notes:
Pls use the machine as the instruction listed to keep the long use lifetime of the machine.
1.The machine should be placeed at the sport far from the Damp,High-Temperature,Dusty,Erosive,and oxidative environment;
2.All parts will be free from the strong shake,hit fall;
3.Touching the power adaptor with the wet hands is prohibited;
4.Pls hold the power adaptor head and do not pull the power cord when cut off from the socket;
5.Pls turn the power off when the machine is not used for long time;
6.Pls do not open the cover and do not touch the inside parts;
7.Pls use the original factory power adaptor.
Product Picture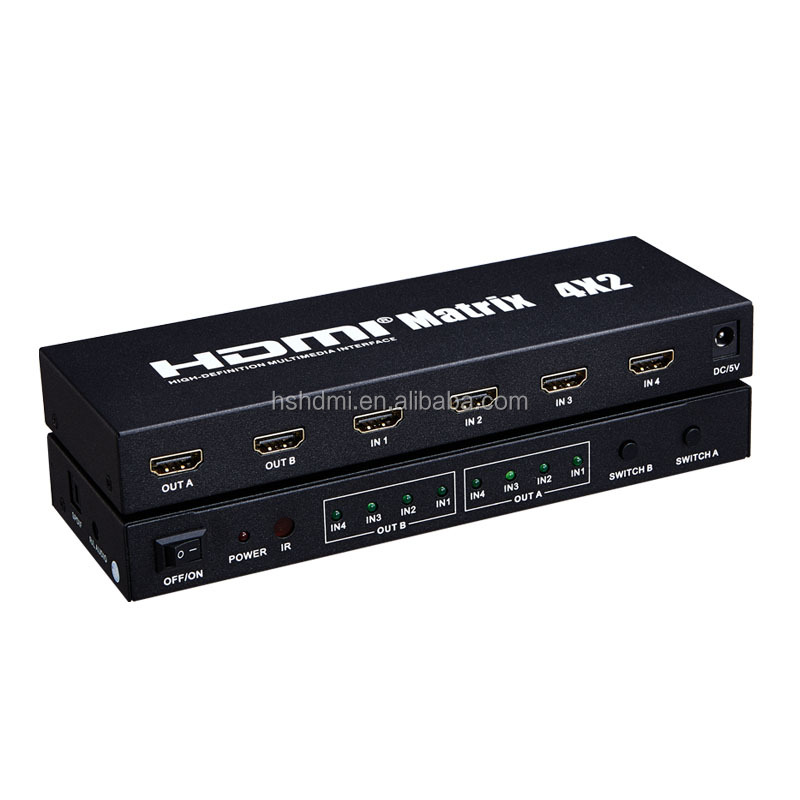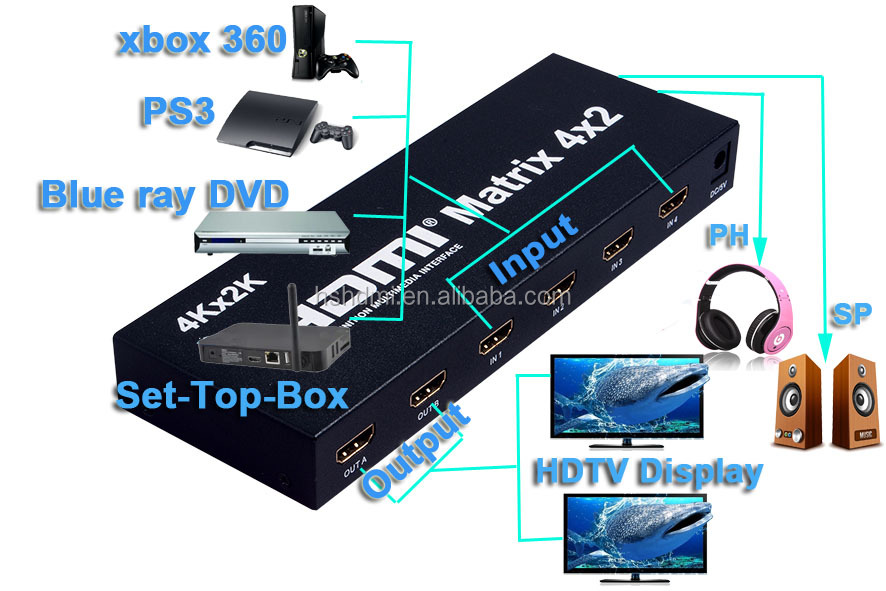 5.Instruction of Buttons and LED:
1.Instruction of LED:IN1-IN4 is the corresponding input source out from OUT A or OUT B;
2.Operation of Buttons:SWITCH A or SWITCH B is used to switched the corresponding input source out from OUT A or OUT B;
3.Press the "SWITCH A" button of 4 ×2 HDMI Matrix for around 5 seconds,it can switch between 5.1 and 2. 1 audio channel.
6.Operating and Connecting:
Step1:Connect each HDMI source devices and input of HDMI Matrix with one HDMI cable;
Step2:Connect display devices and output of HDMI Matrix with one HDMI cable;
Step3:Connect audio output and stereo amplifier with stereo headphone or fiber;
Step4:Use the IR remote control to switch the signal source freely;
Step3:Connect 5V power supply to the HDMI 4 × 2 Matrix.
Physical Connection Showing Picture:
1.
2.

7.The Package includes:
1.HDMI Matrix
2.IR Remote Control
3.5V Power adapter
4.User Manual
8. Music Splitter ELECTRICAL:
| | |
| --- | --- |
| Input DDC Signal | 5 volts p-p (TTL) |
| Maximum Single Link Range | 1920X1080p |
| Output Video | HDMI 1.3b |
| Vertical Frequency Range | 50/60Hz |
| Video Amplifier Bandwidth | 2.5Gbps/250MHz |
| Interlaced(50&60Hz) | 480i,576i,1080i |
| Progressive(50&60Hz) | 480p,576p,720p,1080p |
| Limited Warranty | 1 Year Parts and Labor |
| Operating Temperature | 0 °C to +70°C |
| Operating Humidity | 10% to 85 % RH (no condensation) |
| Storage Temperature | -10°C to +80°C |
| Storage Humidity | 5% to 90 % RH (no condensation) |
| External Power Supply | No power needed for standard product |
| Power consumption (Max) | 5W |
| IR extender receiver | |
| IR remote | |
| User Manual | English |
9.when you buy this equipment , you may also like to buy hdmi cable as these below :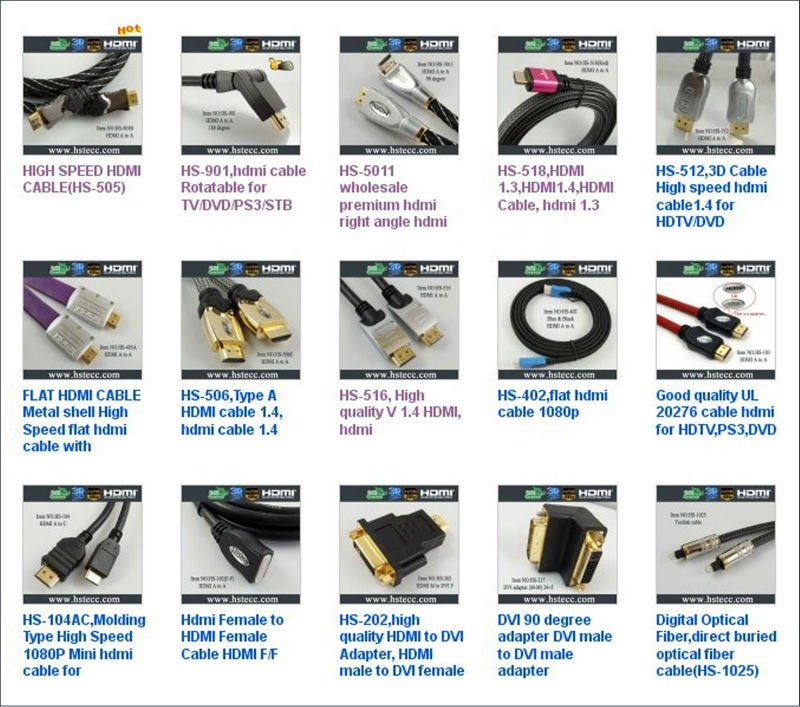 10.Exihibition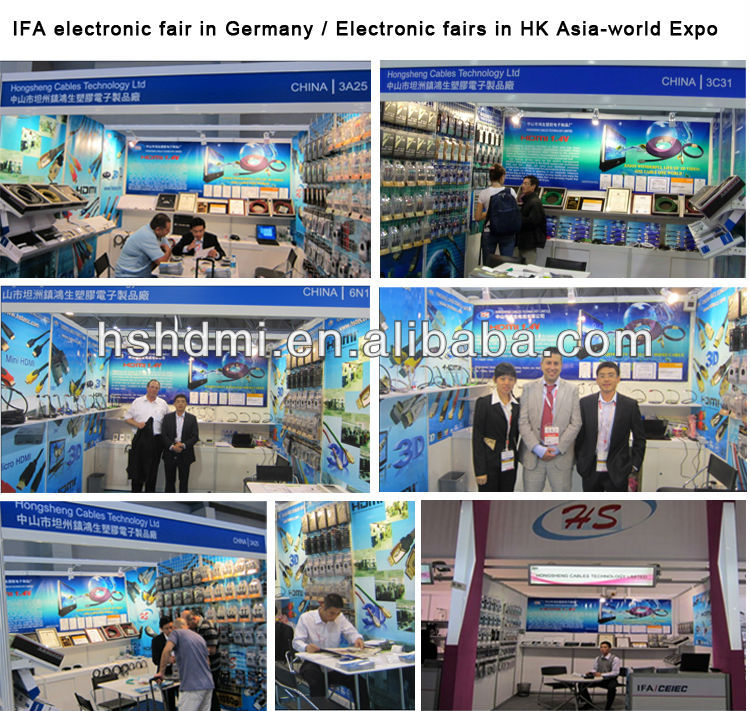 11. hdmi cable led Certificae :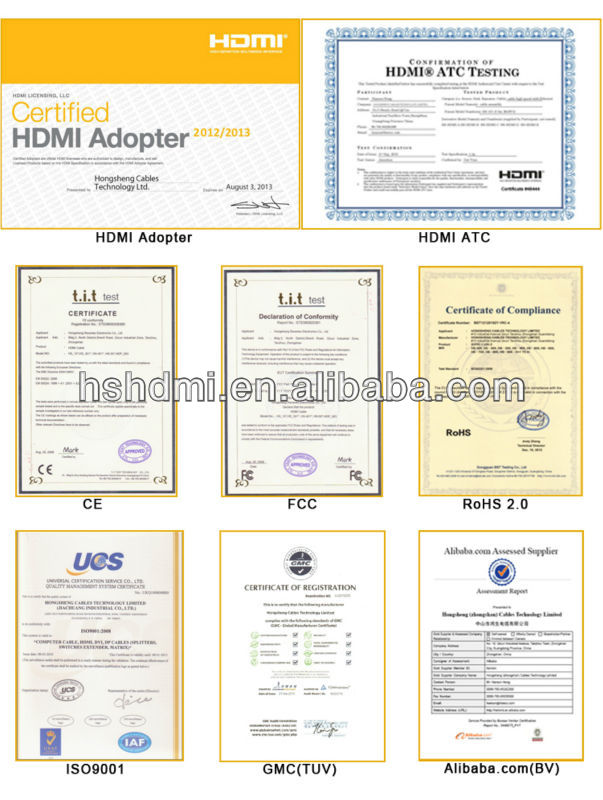 9 years specializing in the production hdmi,dvi,vga cables
Welcome to our factory !