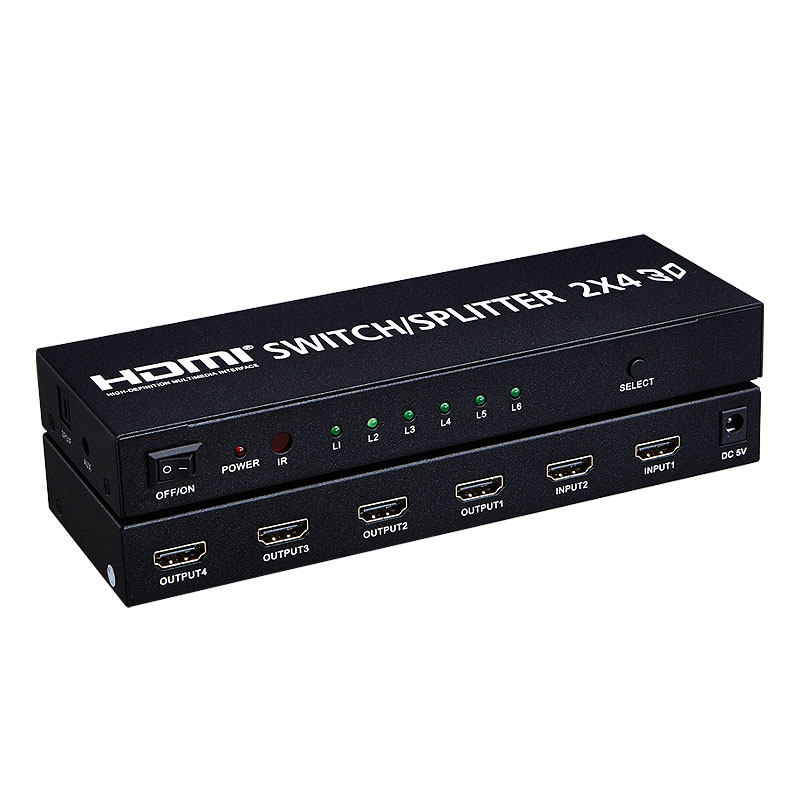 2 in 4 out, HDMI Switch 2 × 4 with 3D,1080P, HDMI1.4 Version
HDMI Switch/Splitter 2 × 4;
Support HDMI 1.4a;
Support 1080P/60Hz/3D;
With 5V/2A power adapter.
1.Introduction:
Switch,split,and amplify your HDMI ® signal with this Switch/Splitter;
Split your HDMI signal to Four HDTVs or projectors;
Switch between two input source devices and send the signal simultaneously to fours displays.No setup or special configuration is required,simply connect the input device(s),then start using it;
When HDMI cable connect with HDMI output,the 2 ×4 switch/splitter can amplify the HDMI singal;
The unit supports up to 1080P resolution,12-bit per channel color depth,and high definition audio signals;
Support 3.5MM Aux audio output and SPDIF audio output.
2.Features:
1.Support HDMI 1.4a;
2.Support 3D video format;
3.Support highest video resolution 1080P/60Hz;
4.Supports 2.5Gbps data rate for tmds clock up to 225MHz;
5.Support 8/10/12 bit deep color;
6. Support input up to 25 metres AWG26 HDMI standard cable length,output up to 15 metres AWG26 cable length;
7.Supports single high definition display for multiple sources,such as DVD Players and Stellite Receivers,Digital Projectors,A/V Receivers,Set Top Boxes;
8.Need DC5V/1A power supply;
9.Inputs can be switched with the IR remote control,also can be controlled by two buttons;
10.It can smartly jump over those input sources which are not connected;
11.With the smart function of memory,it can come back to the latest status when restarted or reconnected.
3.Specifications:
Item
Description
HDMI splitter version
HDMI 1.4a
HDMI resolution
24/50/60fs/1080p/1080i/720p/576i/48p/480i
Support video color format
8/10/12 bit deep color
Support audio format
DTS-HD/Dolby-trueHD/LPCM7.1/DTS/Dolby-AC3/DSD
Max bandwidth
225Mhz
Max baudrate
2.5Gbps
Max working current
800mA
Input cable distance

≤25m AWG26 HDMI standard cable

Output cable distance

≤15m AWG26 HDMI standard cable

Power adapter format input

input:AC(50HZ,60HZ)100V-240V;

Output:DCS 5V/2A

Operating temperature range
-15 ℃ to +55 ℃
Color
Black
Dimension(L × W × H)
200 ×70 ×25(mm)
Weight
280g
Product Picture
4.Operating and Connecting:
Step1:Connect two cables from HDMI source device into HDMI Switch/Splitter input;
Step2:Connect four cables from displayer into HDMI Switch/Splitter output;
Step3:Connect power adapter to the HDMI Switch/Splitter.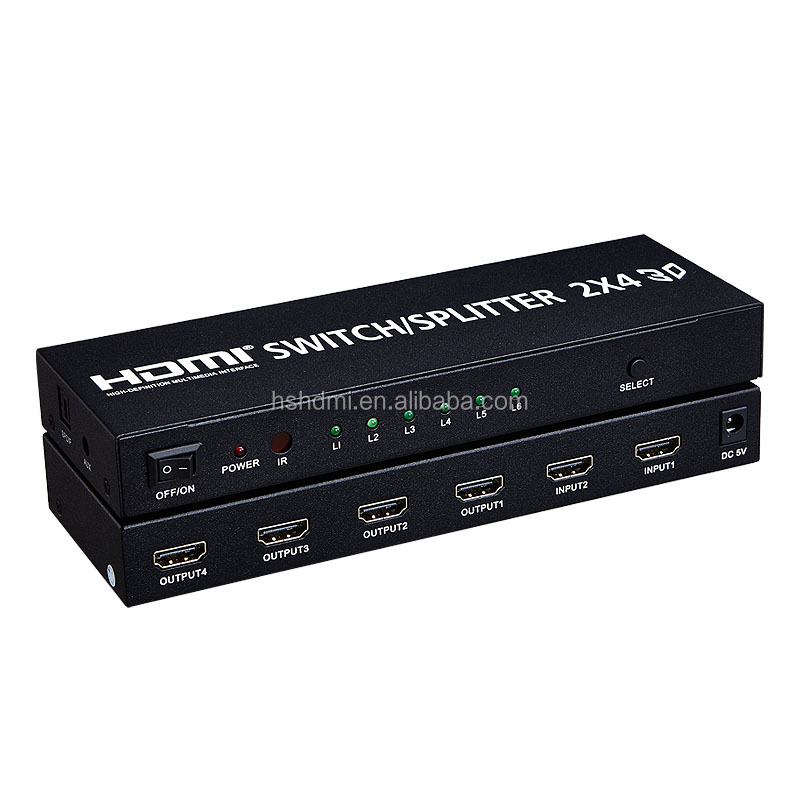 Physical Connection Showing Picture
1.
2.
5.The Package includes:
1.HDMI Switch/Splitter
2.IR Remote Control
3.5V DC Power adapter
4.User Manual
6. Music Splitter ELECTRICAL:
| | |
| --- | --- |
| Input DDC Signal | 5 volts p-p (TTL) |
| Maximum Single Link Range | 1920X1080p |
| Output Video | HDMI 1.3b |
| Vertical Frequency Range | 50/60Hz |
| Video Amplifier Bandwidth | 2.5Gbps/250MHz |
| Interlaced(50&60Hz) | 480i,576i,1080i |
| Progressive(50&60Hz) | 480p,576p,720p,1080p |
| Limited Warranty | 1 Year Parts and Labor |
| Operating Temperature | 0 °C to +70°C |
| Operating Humidity | 10% to 85 % RH (no condensation) |
| Storage Temperature | -10°C to +80°C |
| Storage Humidity | 5% to 90 % RH (no condensation) |
| External Power Supply | No power needed for standard product |
| Power consumption (Max) | 5W |
| IR extender receiver | |
| IR remote | |
| User Manual | English |
7.when you buy this equipment , you may also like to buy hdmi cable as these below :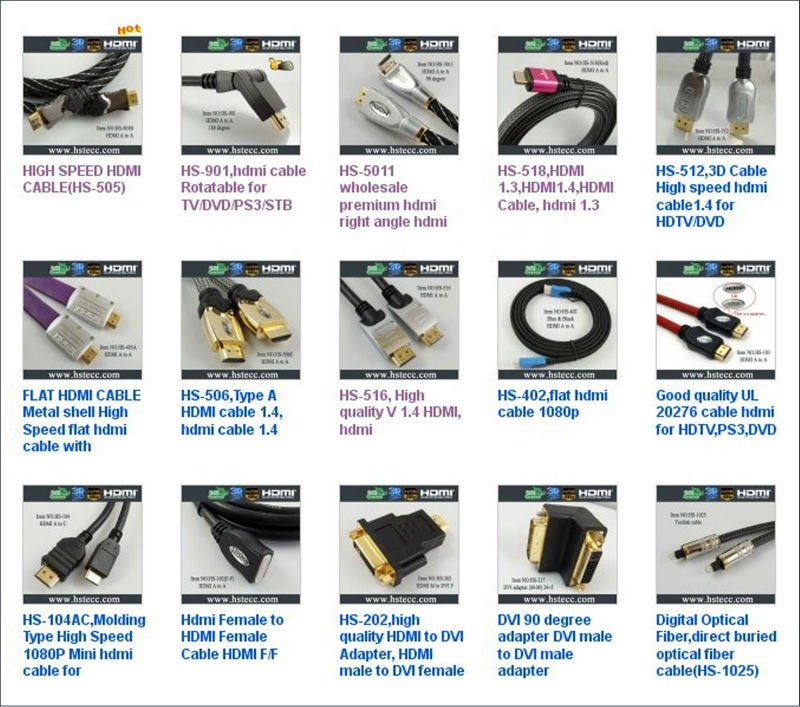 8.Exihibition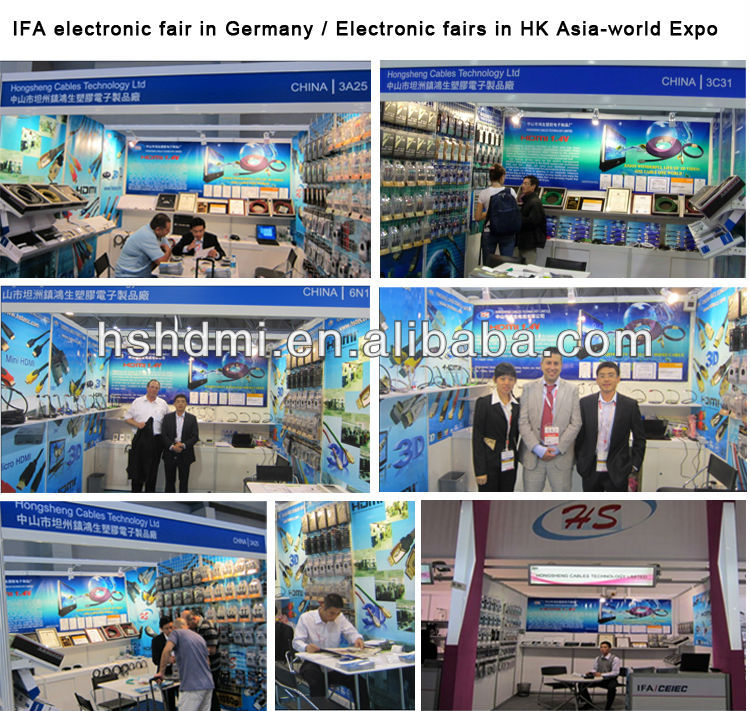 9. hdmi cable led Certificae :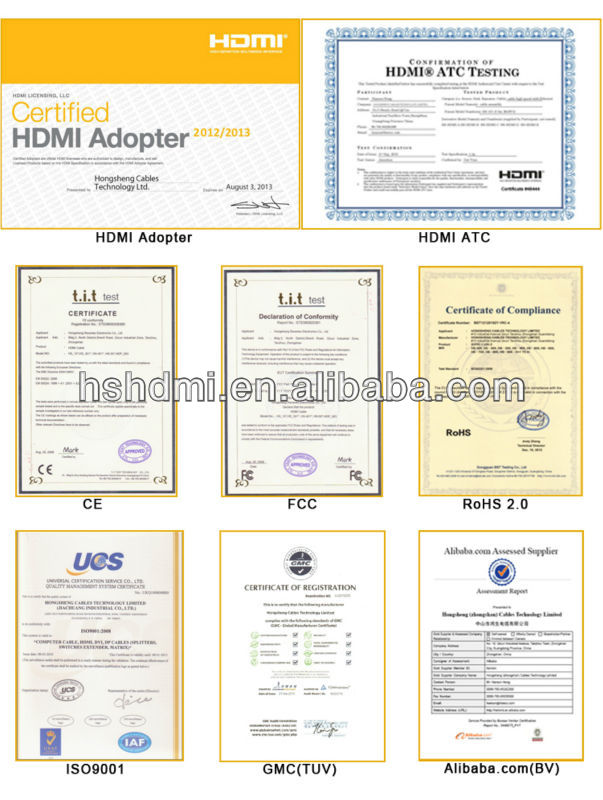 9 years specializing in the production hdmi,dvi,vga cables
Welcome to our factory !