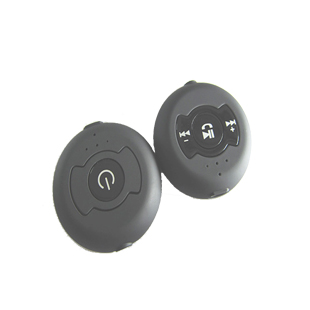 【Introduction】

As one of the newest model of Bluetooth Music receiver, H-366 can turn the traditional wire speaker to wireless
Bluetooth speaker, and through mobile devices e.g. smart phone to remote control music play to let you enjoy the convenient of wireless control.
【Features】
Delicately disc design, exquisite workmanship and mini size with lighter weight.
Multi-function technique, one Bluetooth receiver can connect with two Bluetooth devices.
High quality stereo transmission for a better music experience.
Reverse control of the music play of connected Bluetooth devices.
Safe driving design, it can be used as a Bluetooth carkit which with music play function.
【Music Function Operation Steps】

Step one
Connected the H-366 with speaker by 3.5mm audio cable, long press the on-off key to start up;
Step two
Open Bluetooth devices e.g. smart phone ,tab pc and PC, search H-366;
Step three
After pairing successfully, play the music wirelessly.
【Bluetooth Carkit Operation Steps】
Connect the H-366 with the car audio device, after H-366 matched with smart phone successfully:
【Multi-point Connection Steps】
1. Long press power key 5 seconds,cell phone 1 connected with the device successfully.
2. Long press power key 2 seconds,'beep'.
3. Open Bluetooth function of cellphone 2, connect it with the device.
4. Connect the device with cellphone 1 again by manual operations.
5. The device connected with these two cellphones successfully.